Force Field Projector
It is requested that an image be included in this article to improve its quality.
Force Field Projector
| | |
| --- | --- |
| Mod | |
| Type | Machine |
| Input Voltage | N/A |
| Output Voltage | N/A |
| Capacity | 500 kJ |
| Tool | ? |
| Stackable | Yes (64) |

The Force Field Projector is a fundamental part of the Modular Force Field System mod. A Projector uses Fortron energy to project force fields of various shapes and sizes into the world.
Usage
To make a force field, give the Force Field Projector a supply of Fortron by linking it to a nearby Fortron Capacitor. This can be achieved either by:
Right-clicking the Force Field Projector and entering the matching frequency number into its GUI screen, or
Shift-right-clicking the Projector while holding a Frequency Card.

Decide which force field shape to create by crafting one of the following projector mode items:

Right-click the Projector and place the projector mode item (e.g. Cube Mode) into the central pink slot surrounded by outwardly facing arrows.
Craft a number of Scale Module items and place them into the left-hand slot matrix of the Force Field Projector's GUI screen. Each Scale Module used in the Projector's left-hand slot matrix will increase the force field radius by one block.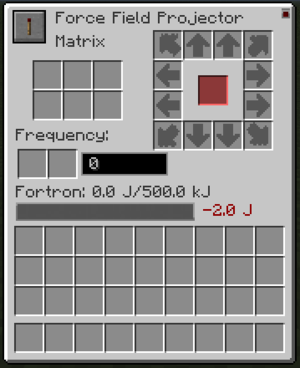 The number at the bottom (shown in red) indicates how much Fortron energy is required to sustain a force field of the specified size and shape.
Activate the Projector by supplying it with a Redstone signal. Once activated, the Force Field Projector will change from red to blue and begin projecting a force field (provided it has enough available Fortron energy).
Crafting Recipe
 

 

32x32px
General Modules
A Force Field Projector may be augmented with various modules to improve its performance.
Scale Module: Extends the dimensions of a projected force field shape by 1 block in all directions.
Speed Module: Allows the Projector to generate a force field more quickly when first activated. Also causes gaps in the field to re-generate faster.
Capacity Module: Increase the amount of Fortron the Projector is able to store by 10kJ.
Notes
Like other MFFS machines, the Force Field Projector can only be broken by shift-right-clicking on it with a Wrench.
A Force Field Projector can be activated without the need for a Redstone signal by clicking the Redstone Torch button in the top-left corner of its GUI.
A Force Field Projector can be dangerous if used around a Fission Reactor or Fusion Reactor.
Projector Modes
General Modules
Projector Modules
Interdiction Matrix Modules
Machines
Items
Energy
---